How to Download Facebook Live Videos in 2021
Have you ever wanted to download your or someone else's Facebook Live videos? Facebook is among the few of those social networking sites which successfully remain relevant since its launch. It comes with a real staying power and always stays one step ahead of its competitors. Unlike Snapchat and Instagram, Facebook is set to target a much larger audience: YouTube. Facebook has gradually evolved with time, and now it is a social networking site and publishes both articles and videos. Moreover, to do so Facebook has introduced a new feature; Facebook lives.
The benefits of Facebook live are beyond your imagination. You can witness a skyrocketing increase in your audience. You can also download Facebook lives to build a personalized library of archive content or for entertainment during a trip. This article will explain a full guide on how to download Facebook live videos step by step.
Reasons to Download Facebook Live Videos
There are numerous reasons why people want to download either their own Facebook live video or one from someone else. According to Business Trainer and Personal Coach Aaron Jarrels, these are the most popular reasons to download videos from Facebook:
Sometimes people want to take a copy of their live video for future use.
To upload a video on other sites like YouTube or Vimeo.
Many people want to take a copy to learn about their mistakes to avoid them in the future.
They can also repurpose Facebook live videos to target a greater audience.
To upload a video on their website or blog post.
Sometimes the only reason to download a video is to save it on their computer or a laptop.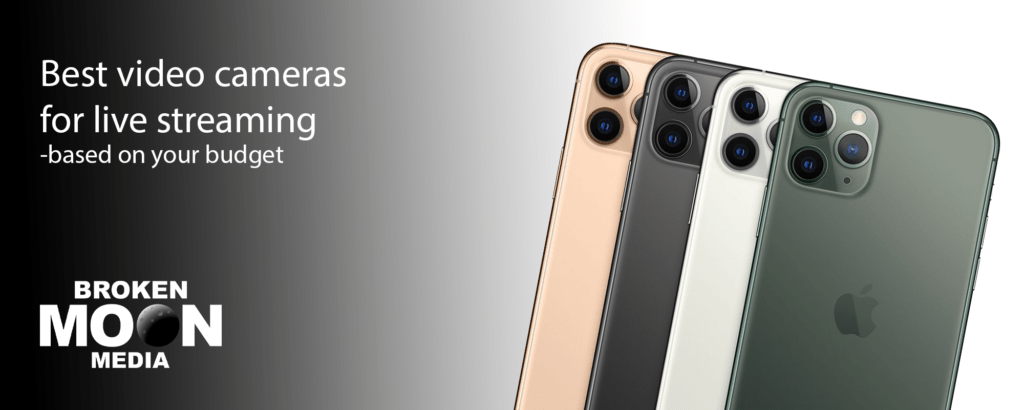 How to Download Facebook Live Videos Step by Step
In this section, we will explain four methods to download the Facebook live video. These are:
1. Download Facebook Live Videos Using Special Software:
The best approach is to save Facebook live videos using desktop software. Therefore, this method will explain how you can keep your own and someone else Facebook lives using special software. This desktop software can help with a high-quality download and batch download. Let's have a look at Mac and Windows desktop software and how to use them.
On Mac:
Cisdem Video Converter is the best and professional software that can allow downloading online videos. Using this software, you can download videos from more than 1,000 websites, including Facebook and YouTube. Thus, making it a perfect choice for downloading Facebook lives and private videos. The best thing about this software is that it downloads video in high quality. You can download videos in 4K 2160p.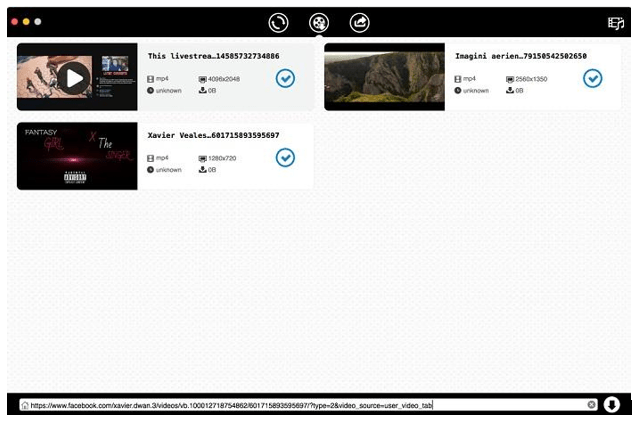 How to Use:
It is quite simple to download a video using Cisdem Video Converter.
First, download and install a Cisdem video converter on your Mac.
Login to your Facebook account, and from the left panel, go to videos and live videos.
Now search for a live video you want to download and copy its URL.
Once you launch the Facebook video downloader, paste the URL of a live video that you have copied in the blank.
Then click on the download button, and your video will immediately start downloading in the highest resolution.
After the downloading is finished, click on the tick icon to open the folder live Facebook videos are stored.
Pros:
It takes only a few minutes to download a file.
No matter how large or small a file is, it doesn't lose any image or content during download.
You are free to download a video in various formats.
Cons:
It is only available for Mac users.
It is a little more costly than other similar software for Mac.
On Windows:
There is numerous excellent desktop software for Windows users. However, the best among them is the Facebook Video Downloader. It can help to download videos from hundreds of video sites, including Facebook. You can download a video in 8K, 5K, 4K, 2K, HD 1080p, HD 720p, and HQ quality.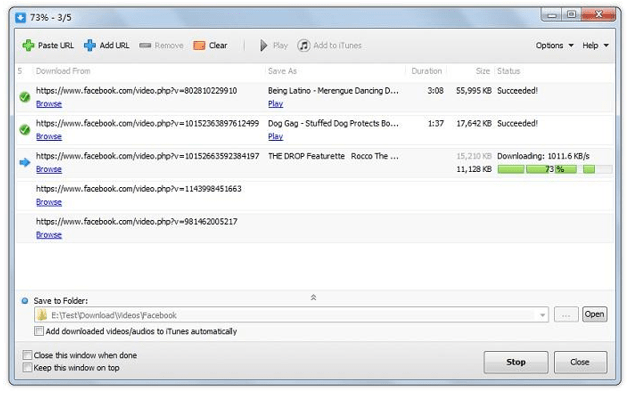 How to Use:
Download and install Facebook Video Downloader on your computer.
Login to your Facebook account to search the video you want to download and copy its URL.
Click the Add URL bar and paste the URL on the box that appears on the screen.
Select the resolution as well as the format in which you want to save the video.
Now select the location where you want to store the video after downloading.
Press the Start button to initiate downloading.
Pros:
It allows batch download.
You can convert downloaded videos in different formats, including MP3, MOV, and AVI, etc.
It comes with a high-quality and speed.
2. Download Facebook Live Videos Using Online Converters
Another method for saving Facebook live videos is by using online converters. The most significant benefit of using this method is convenience. In case you want only to download one or two videos, then this is the best option. Remember that online converts cannot download in bulk, unlike desktop software.
Savefrom.net:
There are numerous excellent online converters like Savefrom.net. Let's have a look at how you can download a Facebook live video using Savefrom.net.

How to Use:
Login to your Facebook account and look for the video you want to download.
Copy the URL of the video.
Now go to the official page of Savefrom.net.
Then paste the video URL in the box and press the enter button.
Finally, click on the Download MP4, and you will automatically go to a new page. Click on the three dots icon.
In the last step, click on the download option to start downloading the video.
Pros:
It is quite simple and easy to handle.
You don't have to install any program or software.
It can also download videos from other sites than Facebook.
Cons:
The quality of the downloaded video is not good sometimes.
It cannot deal with private videos.
3. Download Facebook Live Videos Using Browser Extension:
You can also download Facebook live videos using a browser extension. Various browsers like chrome allow its users to download Facebook live videos. Some of the famous browser extensions include Flash Video Downloader, Fbdownloader, and Social Video Downloader, etc. You can opt for this method when you want to save the video's quality, and downloading video lives the time it takes to download. The best strategy is to choose the method according to the needs of the time.
Flash Video Downloader:
This section will focus on the Flash video downloader, which is a simple extension to use. As you can guess from its name, it is a reliable platform to download Facebook videos. Moreover, using this, you don't have to download any additional files in your device. It is available in English and five other languages.
How to Use:
Add flash video downloader extension in your chrome.
Then open the live video you want to download from Facebook.
Now click on the extension icon from the toolbar. It can automatically add the video to the download list.
Click on the arrow down icon to redirect to the new website.
Lastly, press the download button to start the download.
Pros:
There is no need to copy and paste the URL of the live you want to download like other methods.
It can download multiple Facebook live simultaneously.
Cons:
It cannot save videos in the highest resolution.
There are times when it cannot detect and save the video.
4. Download Facebook Live Videos without Special Software
In case you don't want to download Facebook live videos using any tools and software, you can also do so without a tool. This section will explain a method where you can download a Facebook live video directly. You can directly download a video from your own Facebook page or profile.
From Profile:
To download video from your profile, follow this method:
How to Use:
Login to your Facebook account and go to the profile page.
From the menu bar, click on the more option and go to videos.
Move your mouse over the video thumbnail you want to download. An edit icon will show up on the screen.
Click on the edit icon.
A menu bar will appear on your screen click on either download HD or download SD to start downloading.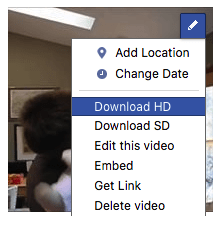 From Page:
You can easily download a Facebook live video from your page.
How to Use:
After logging in, go to your Facebook page.
Keep in mind that you must log in as an admin or page owner.
From the left corner, click on the videos and open your required video.
Three dots will appear on the upper right corner. Click on them and then press on the download video option.
Another option is to click on the Edit video if the above option doesn't work.
From the editing,  click on the gear icon and select Download SD.

The main pros and cons of this method are:
Pros:
This is the most simple and easiest method to download Facebook live videos.
There is no need to download a special tool or software.
You can easily save all your Facebook live videos from your profile.
Cons:
This method will work only for the Facebook live videos.
It can download videos in lower quality than the original live.
How to Save Facebook Live Videos
There are multiple ways to download and save a Facebook live video. We hope these help you figure out your favorite way. Feel free to choose any method that best suits your needs and is easy for you. You can either directly download them or use special software or tools. If you want to watch Facebook live videos and practice downloading them, check out our Facebook Page 🙂
If you are building or trying to grow an online business using a website or social media and would like some insider tips and advice be sure to subscribe to the Broken Moon Media Newsletter. We send a weekly email with social media ideas for small businesses and individuals who are deep into building a brand and could use a little help.
Subscribe Now Below.
GET YOUR FREE GIFT
Sign up now and receive your free Business Needs Assessment Tool in your first email.
Check out our Local SEO Packages