Podcast: Play in new window | Download (Duration: 14:10 — 13.1MB)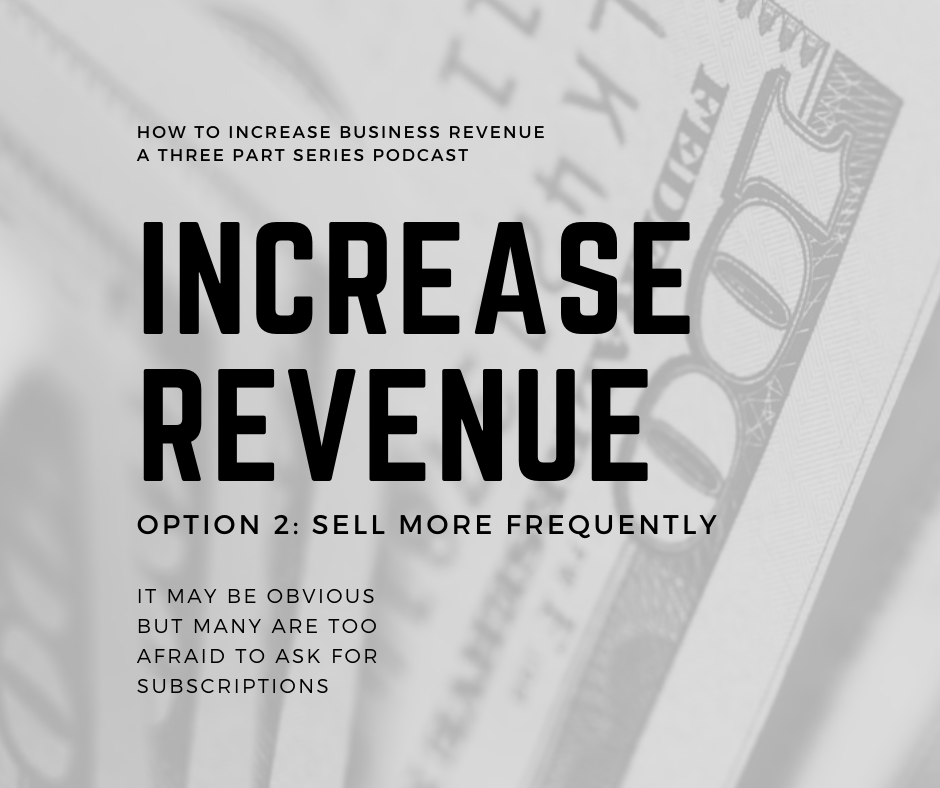 Sell More Frequently
This is the second part in a three part series on how to increase your business revenue. This episode we discuss and dive into the concept of trying to sell more frequently by using subscriptions. Customers often forget to buy your product or service. Give them the opportunity to receive your product or service every day, week, month, quarter or however often you sell your things. People will appreciate not having to remember. 
Here are some of the top subscription model ideas to help you spark and idea.
Be sure to listen to the other two episodes to find out more ways to increase your business revenue. As for the weekly business review, we are giving the website and google a few weeks to settle after the last algorithm change. Like always please share this with your friends, like, and subscribe!
Weekly Review
Just like last week we are taking a break from checking on how the business is doing on Google. There are a few reasons we are not checking for a short while.
First, it is not helpful to over work and analyze every little thing every day on your website and its performance, so give it a rest.
Second, if you are too stressed watching every little thing that happens to your website and tweak everyday, you will misread some of the information and feedback you are getting. Plus it is not good for your mental wellbeing to be so caught up in the details all the time. It will stop your creative flow and hinder your ability to write articles, make content and be of value to your customers and clients.
Last, It gets tiring staying on top of too many things at once. Plus, things are not moving that quickly anymore, it is beginning to mature online, so changes will be slower. I do not like saying nothing or not much different… I will keep you posted on the changes that happened since last time soon.
Thanks
Visit the website for more at Broken Moon Media and join our Facebook Group
SIGN UP NOW AND RECEIVE BONUS DOWNLOADS
SUBSCRIBE TO OUR MONTHLY NEWSLETTER FOR EXCLUSIVE CONTENT
We value your privacy and time, we promise not to sell, share, or use your email to send any junk. We only send monthly emails when we have valuable info, content, freebies, and usable downloads for you. That's a promise. - Broken Moon Media