Regardless of which business you belong to or what kind of company you're starting, subscription models are a fast growing trend. They're convenient, unique, and everyone loves a little surprise they know is coming. If you're starting a business, but you're confused about what to offer in a subscription model, here are some of the top-rated subscription model ideas for you to consider!
What Are Subscription Business Models?
In case you're not aware of this concept, a subscription business is a company that offers subscriptions to its products and services. The customer or client can subscribe to this service and receive their selected package on a set day or date. For example, some people like to subscribe to grocery businesses. This way, they choose a bunch of products that they receive every month on a set date. Similarly, certain jewelry or skincare brands send their subscribed customers many products every month at a set price.
Use these subscription model ideas to spark a new and creative subscription for you to try with your business. Do not think this is an exclusive list.
Top Subscription Model Ideas For Your Business
Hopefully, you've got the idea of what a subscription model is. If so, let's move on to the best subscription model ideas for your business. You can choose one of these options, combine a few to create a merge, or take inspiration from them to develop a unique subscription model idea for your company. The possibilities are endless!
Listen to the Podcast Increase the Frequency Customers Purchase here: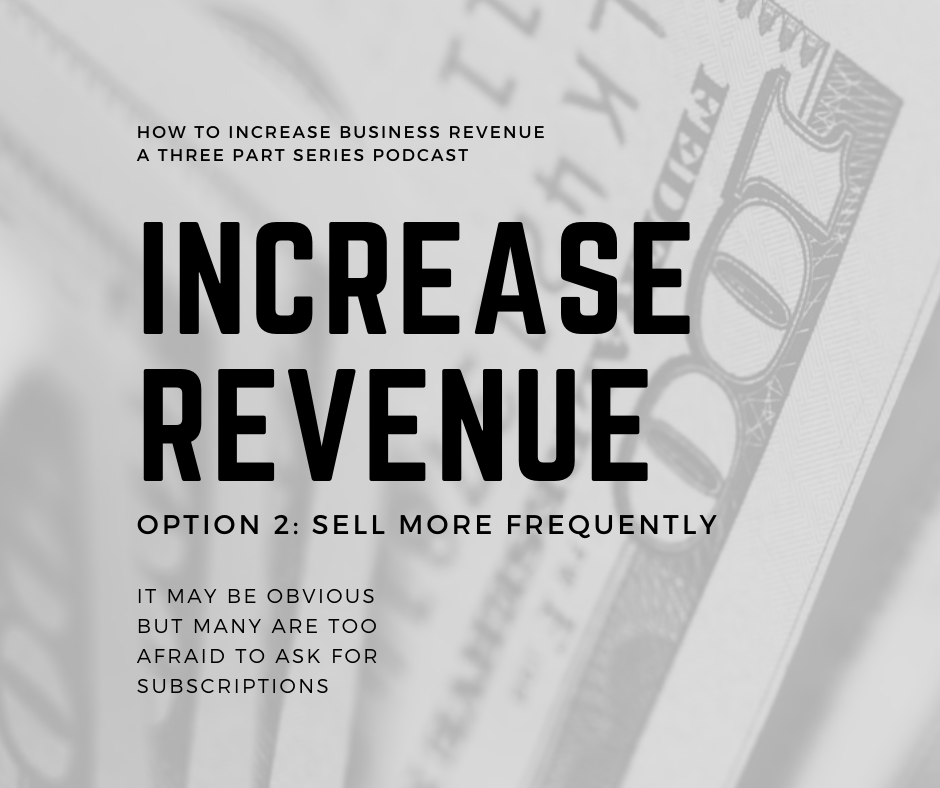 1. Snacks Subscription
People who are fond of snacks often like to have a stash under the bed. The most convenient choice for these people is to have a weekly or monthly subscription to snacks. As a business, you could offer a bundle with a fixed number of snacks along with selected items in the package. You could also add an element of surprise to the subscription by keeping the names of the snacks hidden. When the customer receives the box, it will be like a surprise that they knew was coming. 
To add another unique element to your business, you can offer both local and international snacks. Some people prefer having snacks from a specific country. Often, it's hard to find these in the local grocery store. You can import the said snacks and include them in your subscription model.
2. Fresh Herbs and Spice Mixes Subscription
Buying fresh herbs and spices is often a routine business for some people. To make their lives easier, they usually go for subscription models that promise them a fixed amount and types of items every month. This way, they already know they will get the following package of herbs and spices, so they don't have to worry about shopping. Again, you can offer special herbs and imported spices that are hard to find in the local store. Doing this will add a special touch to your business and make it stand out.
On a side note, even tea samples are a great item to add to your subscriptions. You can incorporate different flavors of tea into your business. You can create subscriptions for tea or add tea samples to your herbs and spices subscriptions.
3. Grocery and Fresh Juice Subscriptions
This one is similar to the idea above but a little different at the same time. People who always have the same list for groceries often tend to find it dreadful. They might not have the time or energy for it and would likely prefer if someone delivered their grocery to them every month. Your business could be that someone! Customers can subscribe to a monthly grocery list that you can deliver to them for a fixed price at a set date. If they want to remove or add certain items to the list, they can always contact you to make the changes at any time they want. Such is the idea of featuring fresh juices. You can promise to deliver a box of fresh juices to their doorstep. It could be a daily service or a weekly one.
4. Stationary Subscriptions
For art enthusiasts, getting a subscription to art tools, stationeries, and crafting kits can be a perfect idea. You can create monthly packages with different art and craft tools, colors, paints, utensils, papers, and much more. It could have coloring books, scrapbooks, journals, paint boxes, washi tapes, stickers, and so much more. Art students often have monthly tools to buy, including pencils, colors, papers, and sharpeners. So, instead of shopping every month, they could easily subscribe to a bundle and get it all sitting at home.
5. Premade Meals
Busy mums or women who are not fond of being in the kitchen for long can opt for premade meal subscriptions. You can create a weekly menu, and customers can subscribe to it. You can also make individual meal plans for people who want to lose weight, who are on keto, or who have unique nutritional needs. Different menus could have different price ranges, and you can add unique elements, like desserts, to your subscriptions. You can also separate breakfast, lunch, and dinner meals to make bundles more customizable.
6. Meal Plan Subscriptions
While we're on the subject of diets and meals, some people also want subscriptions to special diet plans. For example, individuals who are trying to lose weight or stick to a dairy-free diet usually want an expert to make meal plans for them. If you are an expert or have connections with one, you can create these meal plans for your subscribers. You can offer specialized plans or general ones. And you may also provide unique recipes with these plans to make things more exciting!
More Subscription Model Ideas to Consider
7. Babysitting And Childcare Services
How cool would it be if you offered babysitting services to new parents? You could have a team of qualified, experienced, and trustworthy babysitters. Your subscribers would get a certain number of babysitting days at a set price, and they can avail of the services at any time. Such a subscription model idea is excellent for parents who find it hard to locate good babysitters for their children on spontaneous occasions.
Other child care products and services could include hygienic items, diapers, wipes, crafting kits, books, toys, and other stuff for babies. You could also create subscription bundles appropriate for different age groups and genders.
8. Library Subscriptions
Book readers have a habit of making a list of books they want to buy every month. But what most readers love is receiving a package every month with new books in it. Now, you can be as creative as you want with this subscription model. You can offer one surprise book every week or every month; you can offer the subscriber to choose the books they want, or you can create a monthly package with surprise items inside. To add a special touch to your subscription boxes, you can also add accessories like bookmarks and bookends.
9. Personal Care And House Cleaning Subscriptions
Wouldn't it be great if you had the option to get a certain number of massages, physical therapy sessions, counseling sessions, or spa days in a month, and you only had to pay once? If you think that's a great idea, you can implement it as a business model. The idea is the same as offering a voucher. You can offer a variety of services in a single subscription or have separate subscriptions for different services. A unique idea would be to allow the subscriber to customize their subscription package as per their needs.
Similarly, working women and busy mums often find it hard to keep their houses clean. They already have so much on their plates, and house help can be expensive sometimes. So, getting a house cleaning subscription is the most convenient idea for such people. For example, one could subscribe to a service where house cleaners could visit the house once a month and clean it thoroughly.
Weekly Subscription Model Ideas
10. Newsletters And Magazine Subscriptions
People who are fond of newspapers, newsletters, and magazines would be very thrilled to hear about such a subscription. Your business could offer monthly newsletters and magazines dropped off to the subscriber's address on a set date at a set price. You can give them the option to choose the magazines they want. To add something special, you can incorporate coffee and tea samples or some snacks to go with the magazines.
11. Media And Equipment Rentals
Do you have musical instruments, pieces of equipment, music, or machines that you can give out on rent? Let's say you have a collection of CDs or vinyl. You can rent these items to people and charge them for the time they borrow them for. Similarly, if you have a guitar or a piano that you can give out on rent, that will be a great business idea as well. You can create subscriptions where the subscriber could get a different instrument every two months or so.
12. Pet Care And Food Subscriptions
People who have pets are often on the lookout for stuff that can help them care for these babies. It includes pet guides, treats, accessories, and other stuff that could benefit their pets. You could start a subscription model that involves all of these items and more. There could be grooming tools in the bundle, along with toys and fun games. Plus, you could add a voucher for pet grooming services in the package. You can also give the subscriber the option to choose the stuff inside the box or keep it all a surprise.
13. Jewelry And Fashion Subscriptions
Ladies who want to give themselves a gift every month can subscribe to jewelry and clothing bundles. As a business or brand, you can offer a certain number of clothing or jewelry items in a package every month. They can choose the amount they want to pay for the subscription box, and you can add things that belong in that price category. To make it more unique and personalized, you can ask the customer for the brands they prefer and what kind of jewelry or clothes they like to wear.
14. Makeup And Skincare Subscriptions
You can also apply the idea above to makeup and skincare. Ask the customer what price range they would like to go for and then add drugstore or high-end products accordingly; you can also merge both and create a mixture of items. Ask the customer for their brand preferences, skin types, and other essential things. Make sure you don't send anything that might be allergic to or any product that could trigger any kind of reaction. Keep it as safe as you possibly can.  
15. Vitamin Subscriptions
Some people don't like getting refills of the same vitamins every month. Instead, they prefer to subscribe to a service that can deliver these vitamins to the doorstep. The idea is very similar to having a milkman who delivers good quality milk to the doorstep every day. You can offer a monthly delivery of high-quality, doctor-recommended vitamins to the customers. A unique idea would be to allow the customer to personalize these vitamins as per their individual needs.
16. Fresh Flower Subscriptions
If you like to have fresh flowers on your tables every day or every week, you are not alone. Other people love flowers just as much and would very much prefer someone dropping flowers off after a certain number of days. You can ask the customer for their preferences and deliver flowers to their doorstep. Exceptional service would be to retrieve the old and dry, and dead flowers so that the customer doesn't have to deal with them. You can use these dead flowers for potpourri or in other ways that you prefer.
Start Your Subscription Business
Subscriptions are beneficial for both the customer and the business. As a brand, subscriptions mean you have a set amount of sales that you will make in a certain amount of time. For the customers, it is convenient since they don't have to order the same items again and again. It's a Win-Win situation for everybody! So, whether you already have a business or want to start a new one, make sure you have a subscription model for your business.
Do you have additional ideas you would like us to add to this article: Subscription Model Ideas? If so message us on our Facebook Page.
SIGN UP NOW AND RECEIVE BONUS DOWNLOADS
SUBSCRIBE TO OUR MONTHLY NEWSLETTER FOR EXCLUSIVE CONTENT
We value your privacy and time, we promise not to sell, share, or use your email to send any junk. We only send monthly emails when we have valuable info, content, freebies, and usable downloads for you. That's a promise. - Broken Moon Media