Podcast: Play in new window | Download (Duration: 16:38 — 15.4MB)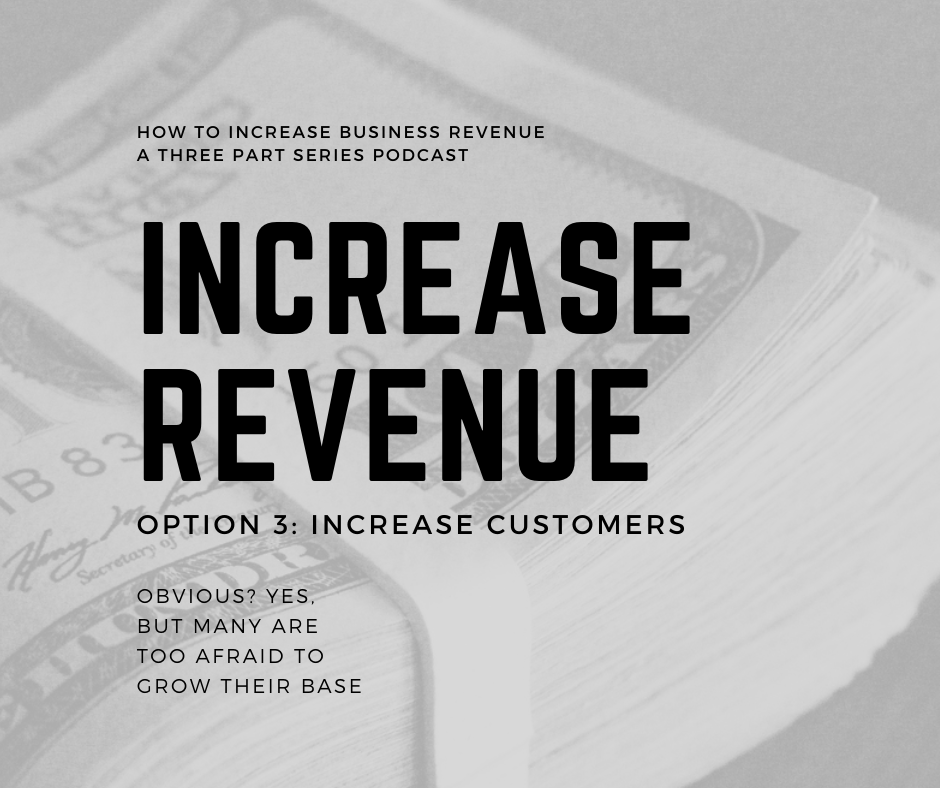 Increase Customers
Part three of the three part series on how to increase business revenue. We discuss the process of increasing customers. It may sound obvious right? But all to often we forget to go after new customers. By simply asking our existing customers to bring us new clients or customers. All too often we think standard advertising is the only way to attract and increase customers.
There are alternative ways to pay for advertising besides just paying for search or social media ads. Take a hard look at who your customer base is and ask yourself where are they spending time? Who is an influencer in their circle? Who might they listen to? You may be able to get an influencer to share your product or service. Possibly for only a free sample and an affiliate link. That way you are only paying for the customers that they send to you not just for them mentioning your business or service.
In the previous episodes we discussed the other ways to increase business revenue by making hard choices that you can act on, but this week it is much easier, you just need to decide where you are going to spend your advertising budget, and what that budget is going to include. When you increase customers you can increase revenue quickly.
Week Ending
We will take a look at how our website business is doing after taking off three weeks. Allowing google to settle after trimming down the keywords my website was showing up in search for. The average search placement is creeping up and so is my CTR. I hope to have good news to share next week.
Until then come see the new face of Broken Moon Media and please check out the Facebook Group Grow and Online Business. Where we discuss all the tips, techniques, and advice you need to build an online business for yourself.
SIGN UP NOW AND RECEIVE BONUS DOWNLOADS
SUBSCRIBE TO OUR MONTHLY NEWSLETTER FOR EXCLUSIVE CONTENT
We value your privacy and time, we promise not to sell, share, or use your email to send any junk. We only send monthly emails when we have valuable info, content, freebies, and usable downloads for you. That's a promise. - Broken Moon Media