Podcast: Play in new window | Download (Duration: 24:47 — 22.9MB)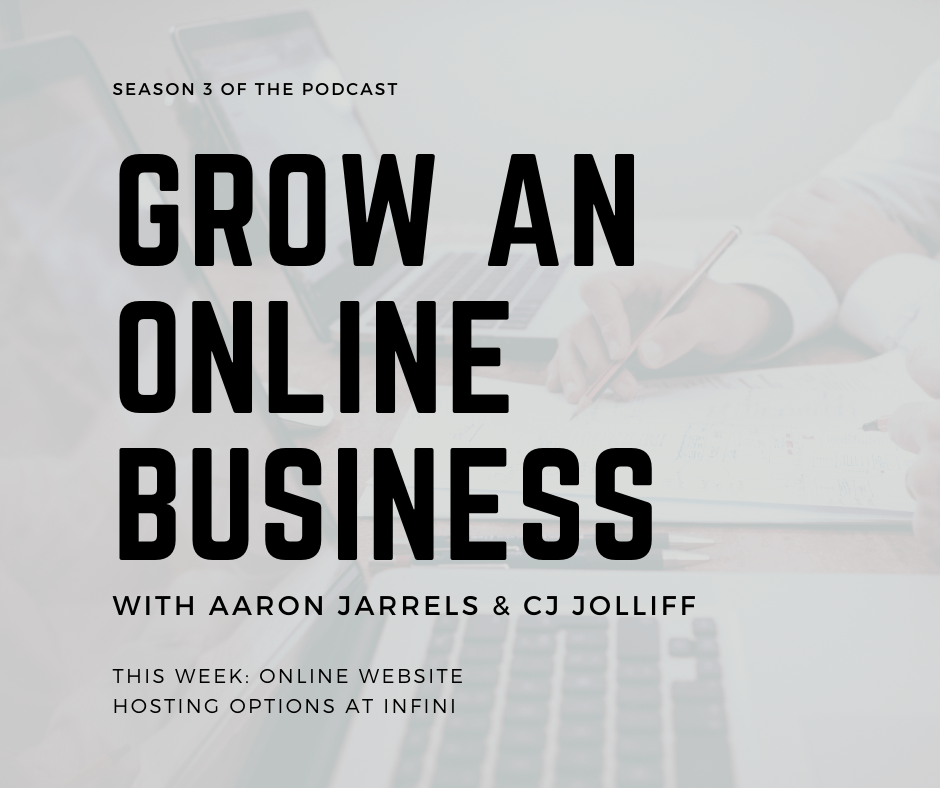 Online Website Hosting Options with CJ Jolliff
In this episode I discuss online website hosting options in a interview CJ Jolliff from Infini Systems and Infini Sites. He discusses the difference between having a "hands off" and "hands on" approach when hosting your website.
A hands on approach is where you as the website owner wants to get in and build out your own website using their intuitive builder. This gives you a real time opportunity to get your hands dirty building a website, but maintaining the professional service that hands off hosting is known for.
The hands off approach to having your website hosted is having the professionals there to build, update, and change your website without you needing to know how to do any of it yourself.
Something you may not have considered: sometimes you have more time than money, so learning to build out your own website makes sense, but if you have no time, then it makes more sense to have others do what they are god at, and that way you simply focus on what you do best.
In Season 3 of the Grow an Online Business Podcast, I am hoping to get CJ Jolliff to co-host the podcast with me every week for the entire season. Now is the time to submit your questions and get them answered. Jump over to the Grow an Online Business Facebook Group Page and post your question. He has agreed to join me for a few "live" Q&A sessions on the GaOB FB Group Page.
Week Ending Report:
This week, according to GA4: my users were up115% to 41, new users were up127% to 41, but my average engagement time dropped 85% to 01s. So that was a mixed bag.
Google Search Console: shows my impressions slightly increasing week over week, and my keywords still decreasing. I am now down to 284 words last week. My average position for the keywords is 50.7 That puts me around page 5 or 6. Not great yet for driving traffic, but if I can continue to creep up, it is only a matter of time before I can hopefully hit page 1 for some keyword. I would like it to be a keyword in one of my affiliate articles. 
In other news, I lost my Amazon Affiliate account. It said I had not made enough sales in the allotted amount of time. That was a personal blow to my pride. But as I told you before, you will hear about the wins and loses. I am hoping to share a win soon 🙂
SIGN UP NOW AND RECEIVE BONUS DOWNLOADS
SUBSCRIBE TO OUR MONTHLY NEWSLETTER FOR EXCLUSIVE CONTENT
We value your privacy and time, we promise not to sell, share, or use your email to send any junk. We only send monthly emails when we have valuable info, content, freebies, and usable downloads for you. That's a promise. - Broken Moon Media