Podcast: Play in new window | Download (Duration: 14:03 — 13.0MB)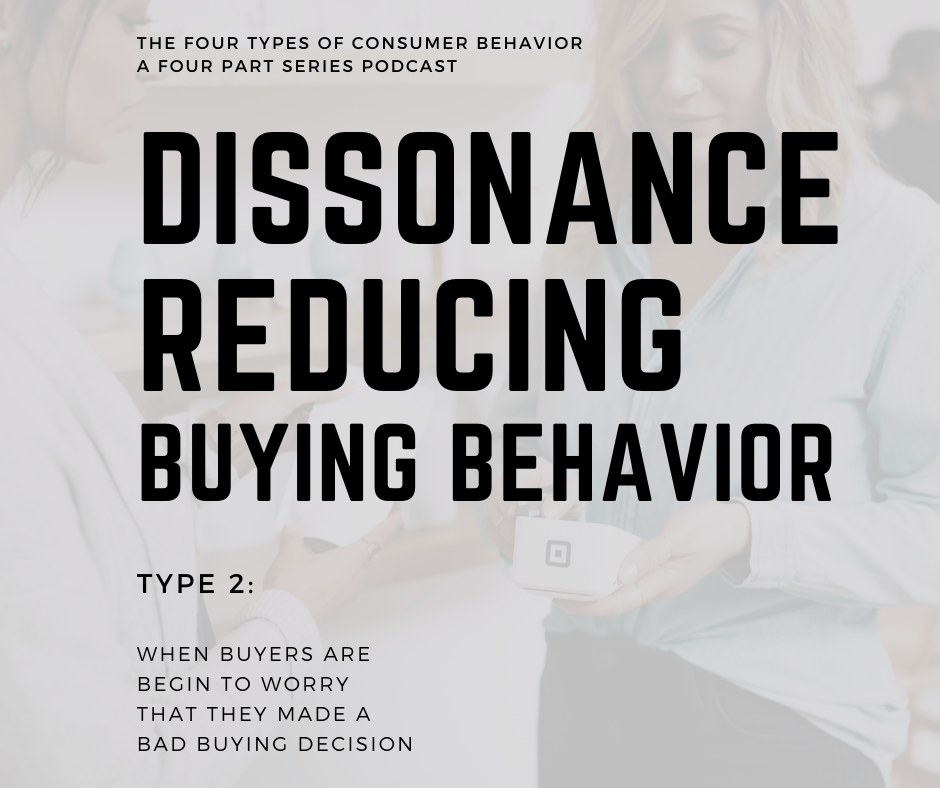 Dissonance-Reducing Buying Behavior
This is the second episode in the four part series on consumer behavior. Dissonance-reducing buying behavior is when your customers question their decision after purchase. They will look for evidence to prove they were right and made the right decision. 
Check out the series Episode 1 HERE (S2 E18 Complex Buying Behavior)
Be sure to put enough information on your webpage, your ad, your copy, your group, wherever your clients get information about you, your product, or service. This is crucial because you do not want to make the new customer look too far to be sure they made the right decision. Or worse, you do not want to give them evidence that they may have made a mistake buying from you or your company. Keep in mind the many buying objections you may encounter, but also be sure to put evidence that they have made the right choice choosing you.
A powerful message that they made the right choice is a thank you for purchasing and a note that you are looking forward to working with or supplying your product to them. This can make them feel appreciated and important. That is often enough for people to think that they made the right choice choosing you or your company.
Week Ending Wrap-up
This week I found that I am still having my keywords narrowed down and I am to the weekly count of 124 words. My average position is around 47-49% so I think that will continue to get better. Not to mention my impressions are on a slight arch upward. Let's hope that holds steady for a little while.
Please check out my Facebook Group and leave me a comment to let me know how I'm doing with the podcast.
SIGN UP NOW AND RECEIVE BONUS DOWNLOADS
SUBSCRIBE TO OUR MONTHLY NEWSLETTER FOR EXCLUSIVE CONTENT
We value your privacy and time, we promise not to sell, share, or use your email to send any junk. We only send monthly emails when we have valuable info, content, freebies, and usable downloads for you. That's a promise. - Broken Moon Media