Podcast: Play in new window | Download (Duration: 14:28 — 13.4MB)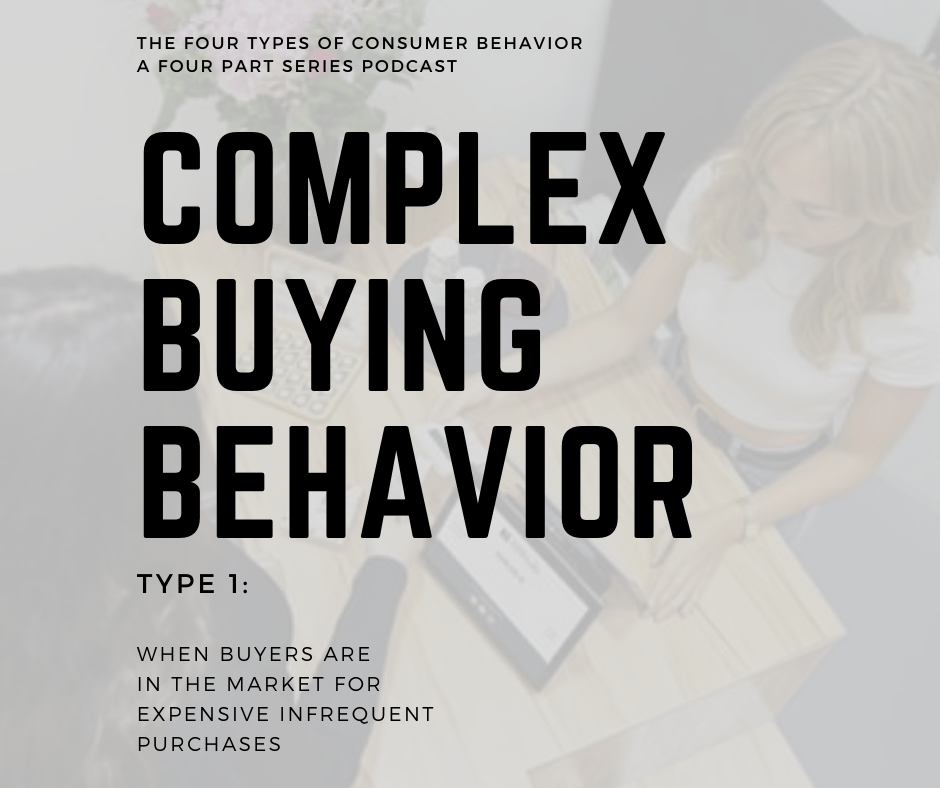 #1 of the four types of consumer behavior: Complex Buying Behavior
We are starting a four part podcast about consumer behavior. We are going to dive into the 4 types of buying behavior you need to be aware of. How you can use your knowledge of the types of buying behavior to adjust your marketing approach. Be sure to subscribe to the podcast to not miss any of the four behaviors.
This week we discuss Complex Buying Behavior. This is when buyers are considering expensive purchases that are infrequent. Think car, boat, house, hot water heater, etc… Customers are much more directly involved in the research process. They want to be sure they are getting a good deal, they have all of their questions answered, and believe they are making a smart choice.
Be sure to answer all of the customer's concerns, questions, and road blocks. Give your potential customer the ability to feel good about their purchase. Make sure the product is worth the cost, and the cost should hurt just a little. In truth the customer will value it more that way. We will discuss the psychological principles about why in a later podcast.
Week Ending for the Online Business
Little happened, this week, but there were slightly more organic traffic leads sent to the website. The site needs more time to ripen or mature. We will check back n it next week.
Be sure to Check out the website for yourself at Broken Moon Media
Come give us a holler at Grow an Online Business on Facebook
SIGN UP NOW AND RECEIVE BONUS DOWNLOADS
SUBSCRIBE TO OUR MONTHLY NEWSLETTER FOR EXCLUSIVE CONTENT
We value your privacy and time, we promise not to sell, share, or use your email to send any junk. We only send monthly emails when we have valuable info, content, freebies, and usable downloads for you. That's a promise. - Broken Moon Media